The Proton-Electrotex company was awarded with the "Russian National Mark (3rd millennium). Quality Mark of the 21st century"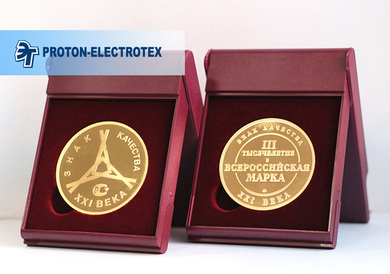 The Proton-Electrotex company has received a Platinum quality mark for its IGBT modules in MIAA, MIFA and MIDA housings as well as a Gold quality mark for thyristor and diode modules in A2 housing by results of the All-Russian competition "Russian National Mark (3rd millennium). Quality Mark of the 21st century"
This competition is a long-term project aimed at promoting the quality of goods, services and advanced technologies on the Russian market, as well as reaching the strategic goals of import substitution.
"Russian National Mark (3rd millennium). Quality Mark of the 21st century" is a system of voluntary certification of products. A company awarded with this mark has the right to place it on its products.
The main objectives of the competition are:
Promotion of high-quality goods, services and technologies
Cataloging the best companies in Russia
Improving the quality of goods and services
Spotlighting high-quality products of Russian companies
Being awarded with the Platinum and Gold Quality Marks confirms the high standard of manufacturing and professional qualities of the Proton-Electrotex employees, and indicates trust of our colleagues from all over the country.
This certification assures consumers that the product meets all requirements of the Russian government and quality standards and is included in the National Program for the Promotion of the Best Russian Products, Services and Technologies.
It is not the first time when Proton-Electrotex enters and wins this competition. Last year IGBT modules in MIAA, MIFA and MIDA housings were awarded with the Golden Quality Marks, indicating continuous improvement and adherence to the criteria of a reliable manufacturer.
About the "Russian National Mark" competition:
The program was launched in 1999. Its scope includes analysis of products, services and advanced technologies according to certain quality criteria. The experts panel consists of professionals from the Federal State Institution ROSTEST-Moscow. Following the results of the examination, the winners are awarded with the 21st Century Quality Mark.
About Proton-Electrotex, JSC:
Proton-Electrotex is the Russian leader in designing and manufacturing power semiconductors including diodes, thyristors and IGBT modules as well as heatsinks, voltage suppressors, resistors and measurement equipment. The company is located in Orel city and ships its products through its partners and distributors all over the world. Please visit website www.proton-electrotex.com for more details about Proton-Electrotex and its offer of products and services.
For further information please contact:
Press contact at Proton-Electrotex
Tel.: +7 (4862) 44-04-56
E-Mail: marketing@proton-electrotex.com