Proton-Electrotex to Present New Product Families at PCIM Europe 2018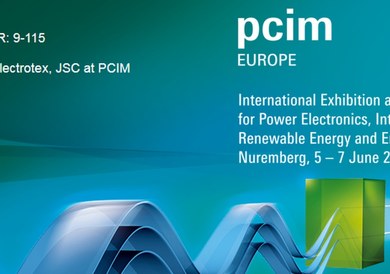 Next month Proton-Electrotex will take part in the main annual event of the power electronics industry – expo PCIM Europe 2018 to take place on June 5-7 in Nuremberg Messezentrum, Germany.
This is a tradition we hold since 2001, because PCIM is the largest European exhibition in our industry attracting manufacturers, consumers and leading researchers in this area.
Proton-Electrotex traditionally presents its latest research and new products during this event. This year we have prepared presentations of more than 10 new products, including:
• IGBT modules with pre-applied thermal interface
• IGBT inverter for electric / hybrid vehicles
• Diode power modules A2 with improved isolation
• Single-component thyristor and diode power modules B.0
• Press-pack IGBT modules PIMA
• SiC power modules
• and many other power devices
Of course, we will also bring samples of existing portfolio already known to our customers.
The booth will be attended by the top management of the company, sales, purchasing and technical representatives. As usual, all our guests can receive souvenirs, leaflets and participate in prize draws.
To make the visit easier for you, we prepared a voucher for free attendance. Follow this link to our invitation, register at the PCIM website and receive your free ticket to the exhibition: https://l.feathr.co/v1/PCIM-Europe-2018-English-TH-Proton-Electrotex-JSC--g
The exhibition will take place on June 5-7 2018 in Nuremberg Messezentrum, Germany. You can find us on the same spot – Hall 9, Booth 115. If you would like to reserve a meeting with us, please let us know by email to inbox@proton-electrotex.com, so we can prepare all the needed information for you.
More detailed information about the event can be found on the official website: https://www.mesago.de/
For further information please contact:

Veronika Kotlyar
Marketing Specialist
JSC "Proton-Electrotex"
302040, Russia,
Leskova 19
Tel.: +7 (4862) 44-04-56
E-Mail: marketing@proton-electrotex.com