Proton-Electrotex Makes a Report at International Forum "Electric Networks 2018"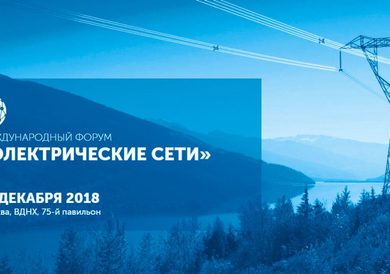 2018-12-12, Orel — On the 6th of December, the International Forum "Electric Networks 2018" (MFES-2018) was held in Moscow, an important annual industry event organized for the first time by a Russian power grid operator Rosseti.
Participation in the forum is a unique opportunity not only to get acquainted with the trends in evolution of electrical networks, but also contribute by introducing new designs, technologies, promising projects and innovative products.
This year's program included 402 exhibitors from 27 countries, more than 330 experts took part in discussion panels and round tables.
Such companies as Energomera, Ekra, PLC, Tavrida Electric, Infotech Group, INCOTEX-SK, Siemens, Kemont, OEK, Schneider Electric, Huawei, Hyundai Industries and many others have demonstrated their innovations.
Our company contributed with a report "High power thyristors with self-protection and presspack IGBT produced by Proton-Electrotex for electric power equipment" made by the head of our scientific and technical center Alexey Surma. The report introduced the audience to the results of research carried out to create overvoltage protection elements in a thyristor semiconductor element by introducing additional donor centers into its structure using local proton irradiation.
We thank all the participants for their attention, Electric Networks CJSC and Rosseti PJSC for the excellent organization of the conference.
About Proton-Electrotex, JSC:
Proton-Electrotex is the Russian leader in designing and manufacturing power semiconductors including diodes, thyristors and IGBT modules as well as heatsinks, voltage suppressors, resistors and measurement equipment. The company is located in Orel city and ships its products through its partners and distributors all over the world. Please visit website www.proton-electrotex.com for more details about Proton-Electrotex and its offer of products and services.
For further information please contact:

Mike Polostyuk
Marketing Specialist
JSC "Proton-Electrotex"
302040, Russia,
Leskova 19
Tel.: +7 (4862) 44-04-56
E-Mail: marketing@proton-electrotex.com