Proton-Electrotex Celebrates its Birthday!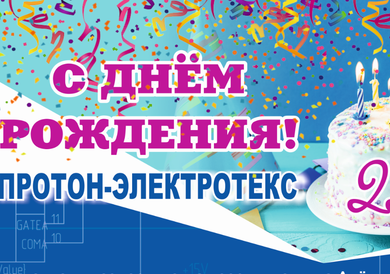 Dear friends!
Today Proton-Electrotex celebrates our 22nd birthday. In these 22 years we made a long way to become one of the recognized global manufacturers of power electronics, yet we are sure there is still more to do for us and there are more achievements and success ahead. We wish all our employees and partners prosperity, consistency, mutual understanding and the drive to achieve more!
Traditionally, on this day we award the best employees of the company by results of the year. This time we will celebrate 12 professionals who impressed us this year the most. Congratulations to all winners and thanks for their work! However, we are grateful not only to them, but our entire staff – it is your effort that allows the company to move forward and achieve new milestones!
About Proton-Electrotex, JSC:
Proton-Electrotex is the Russian leader in designing and manufacturing power semiconductors including diodes, thyristors and IGBT modules as well as heatsinks, voltage suppressors, resistors and measurement equipment. The company is located in Orel city and ships its products through its partners and distributors all over the world. Please visit website www.proton-electrotex.com for more details about Proton-Electrotex and its offer of products and services.
For further information please contact:

Veronika Kotlyar
Marketing Specialist
JSC "Proton-Electrotex"
302040, Russia,
Leskova 19
Tel.: +7 (4862) 44-04-56
E-Mail: marketing@proton-electrotex.com