Proton-Electrotex Enters Top-10 of Russian Radioelectronics Producers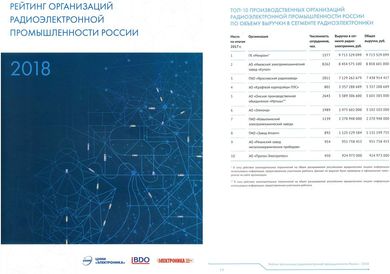 Recently, the information and analytical center of the Russian radioelectronic industry, Central Research Institute of Electronics, in partnership with the scientific and technical journal "Electronics: Science, Technology, Business" and the auditing and consulting company BDO Unicon ranked organizations of the radio-electronic industry in Russia.

The rating of the radio-electronic industry in Russia is aimed to raise the profile of enterprises in the industry, identify key players and their role in the country's economy, and allow participating companies to obtain objective confirmation of market positions, strengthen their reputation and expand their client base.

The authors of the rating believe that this initiative will help domestic radio-electronic enterprises that have been working in maximal closedness for years to adapt to the open market business model.

The main rating criterion was revenue in the segment of radio electronics.

We are pleased to announce that by results of 2017 Proton-Electrotex took the 10th place among all manufacturing organizations in Russia.

This rating is planned to be compiled annually, and according to the results of the current year, our company has every chance to climb several more levels of the rating.

You can read more about the rating and organizations that got into it on the official site of the Central Research Institute of Electronics.
About Proton-Electrotex, JSC:
Proton-Electrotex is the Russian leader in designing and manufacturing power semiconductors including diodes, thyristors and IGBT modules as well as heatsinks, voltage suppressors, resistors and measurement equipment. The company is located in Orel city and ships its products through its partners and distributors all over the world. Please visit website www.proton-electrotex.com for more details about Proton-Electrotex and its offer of products and services.
For further information please contact:

Mike Polostyuk
Marketing Specialist
JSC "Proton-Electrotex"
302040, Russia,
Leskova 19
Tel.: +7 (4862) 44-04-56
E-Mail: marketing@proton-electrotex.com