Proton-Electrotex is Getting Ready for PCIM Digital 2021!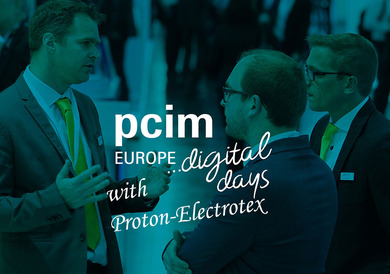 Last year's PCIM Digital Days 2020 received fairly good feedback, and taking into account the current restrictions due to COVID-19 the online format of the event looks like a good decision from the organizers.
This type of event provides an opportunity for a company representatives to exchange knowledge, to tell about new launches and the current situation in the business of power semiconductor devices.
Last year, the two-day exhibition brought together more than 3,000 suppliers and consumers. The participants of the event were able to expand their professional knowledge, establish new contacts and hold negotiations. 74 companies participated as exhibitors at PCIM Digital Days.
During PCIM Digital Days 2020, representatives of Proton-Electrotex presented its power unit BITR-150-0 52-1-V-U2, drivers for thyristors and IGBTs and a number of other new products.
In 2021, participants of PCIM Digital will see the announcement of a completely new device by Proton-Electrotex, as well as and the company's existing product line.
PCIM visitors will be able to communicate, hold meetings and discuss current issues with representatives of the company's engineering staff, customer technical support, sales and marketing departments.
Besides, the organizers have prepared 76 conferences and 15 seminars on the most demanded and popular topics in the field of power electronics.
You can register for the exhibition for free on the official website of the event. You can also schedule a meeting or ask a question about the upcoming exhibition on the "Events Calendar" page of our website.
About PCIM Europe:
This event is considered one of the largest exhibitions in the industry of power electronics. Its main topics cover the latest findings in the use of semiconductors, passive components, thermal control, new materials, sensors, energy management and its distribution.
About Proton-Electrotex, JSC:
Proton-Electrotex is the Russian leader in designing and manufacturing power semiconductors including diodes, thyristors and IGBT modules as well as heatsinks, voltage suppressors, resistors and measurement equipment. The company is located in Orel city and ships its products through its partners and distributors all over the world. Please visit website www.proton-electrotex.com for more details about Proton-Electrotex and its offer of products and services.
For further information please contact:
Press contact at Proton-Electrotex
Tel.: +7 (4862) 44-04-56
E-Mail: marketing@proton-electrotex.com