Release of IGBT Simulation Software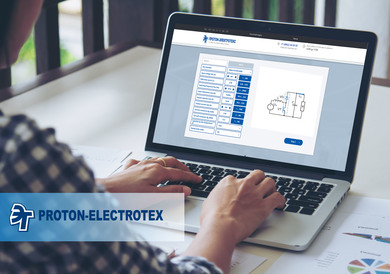 One of the main tasks of the newly released program is to streamline design of converters based on IGBT modules manufactured by Proton-Electrotex JSC. This tool allows to calculate heat losses in the specified operating modes.
The program allows to simulate the entire circuit, determine currents and voltages on all elements, use real models of components, carry out spectral decomposition, determine the power factor and harmonic distortion coefficient.
The program includes 4 main modules:
Authorization module: signup, login and password recovery;
Calculation module: calculation of currents and voltages; calculation of losses and temperatures;
Graphics module: plotting for both HTML and PDF;
Report module: generating and emailing a PDF report.
This tool allows the user select any of IGBT modules produced by Proton-Electrotex; specify the circuit and its input data – DC bus voltage, output frequency, phase load; set up PWM and choose between calculation for chip or base temperature. Currently calculations can be made for the following circuits:
DC/DC Boost
DC/DC Buck
DC/DC SR-Motor
DC/AC 2L VSC
DC/AC 3L-NPC VSC
Electrical and thermal calculations can be carried out separately or sequentially. Semiconductor elements in the electrical task are assumed to be ideal switches. Energy losses occur instantly when a semiconductor device transitions from one state to another.
You can give it a try and carry out the calculations via the link or in the service section of the official website. If you have any suggestions for improving the tool, please contact us at marketing@proton-electrotex.com
About Proton-Electrotex, JSC:
Proton-Electrotex is the Russian leader in designing and manufacturing power semiconductors including diodes, thyristors and IGBT modules as well as heatsinks, voltage suppressors, resistors and measurement equipment. The company is located in Orel city and ships its products through its partners and distributors all over the world. Please visit website www.proton-electrotex.com for more details about Proton-Electrotex and its offer of products and services.
For further information please contact:
Press contact at Proton-Electrotex
Tel.: +7 (4862) 44-04-56
E-Mail: marketing@proton-electrotex.com